I love creating free content full of tips for my readers, you. I don't accept paid sponsorships, my opinion is my own, but if you find my recommendations helpful and you end up buying something you like through one of my links, I could earn a commission at no extra cost to you.
Learn more
If you've got $300 to spend on a gas grill, you'll probably be overwhelmed by the wide range of options on the market!
But it can be difficult to tell the difference between quality grills, and those that just offer a lot of gadgets without guaranteeing durability.
In my many years behind the grill, I've tried and tested a number of different grills, and I've figured out exactly what to look for.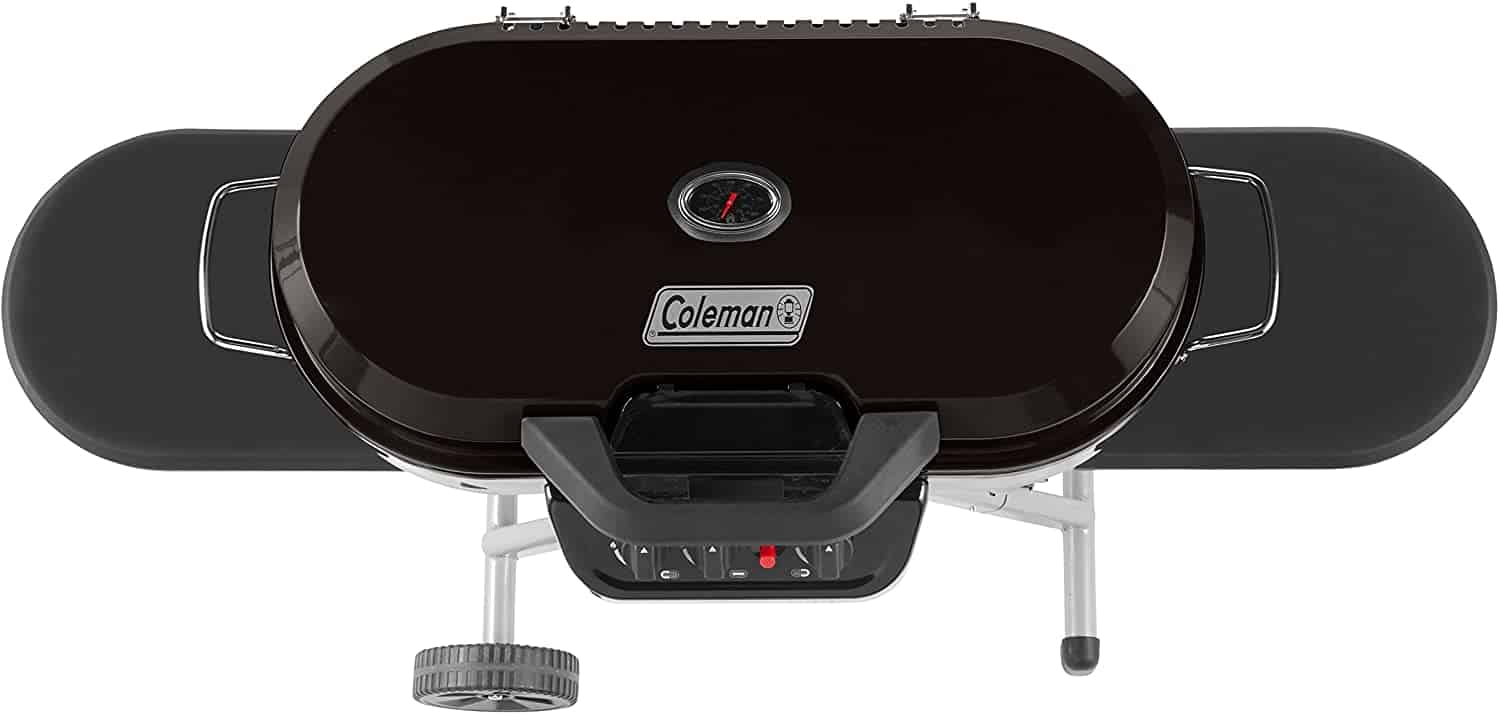 Even if you can't see and touch the item in person, there are ways and means to ensure you get a good product. In the article below I've reviewed four gas grills under $300 that I think give you a lot of quality and efficiency for the money.
My favorite is the Coleman RoadTrip 285. While it's made for travel, it also looks great on your small balcony, and it offers three burners plus 285 square inches of grilling space. It's also relatively high quality for the price, and will last you a good few seasons.
Remember to rather go for durability over gadgets. Make sure your grill is manufactured by a trusted brand, and is built to last. You can always buy gadgets at a later stage.
Tips for buying a new grill under $300
There are some top tips for getting a good quality grill under $300.
Firstly, I would recommend looking at the smaller-sized grills. You will get a better quality model with more durable parts.
Here's what to look out for when narrowing down your choices:
Size & mobility
Select a size based on the space you have available in your surroundings, and on how much food you will need to cook.
Also, consider mobility. Do you want to take your grill with you on camping trips or tailgate parties? Choose a grill that has been specifically designed to be easily transported.
Burners
The more burners, the more heat zones you can create. However, this does add to the cost.
Accessories & gadgets
If you're looking at grills under $300, then I would avoid looking for too many additional accessories & gadgets. Rather pick construction and durability over accessories.
Warranty
Inexpensive gas grills may be more likely to experience manufacturing flaws. Make sure your investment is supported by a fair warranty.
Even with a lower budget, make sure to get a good grill cover to keep your BBQ clean & protected
The 4 best gas grills under $300 reviewed
You don't need to spend a fortune to have a solid and durable grill, at this kind of price you'll find a few truly proper options.
But remember, they are slightly smaller and don't come with many additional gadgets.
Get your grilling tools collection started with these top 3 BBQ accessory kits
Best gas grill under $300 overall: Coleman RoadTrip 285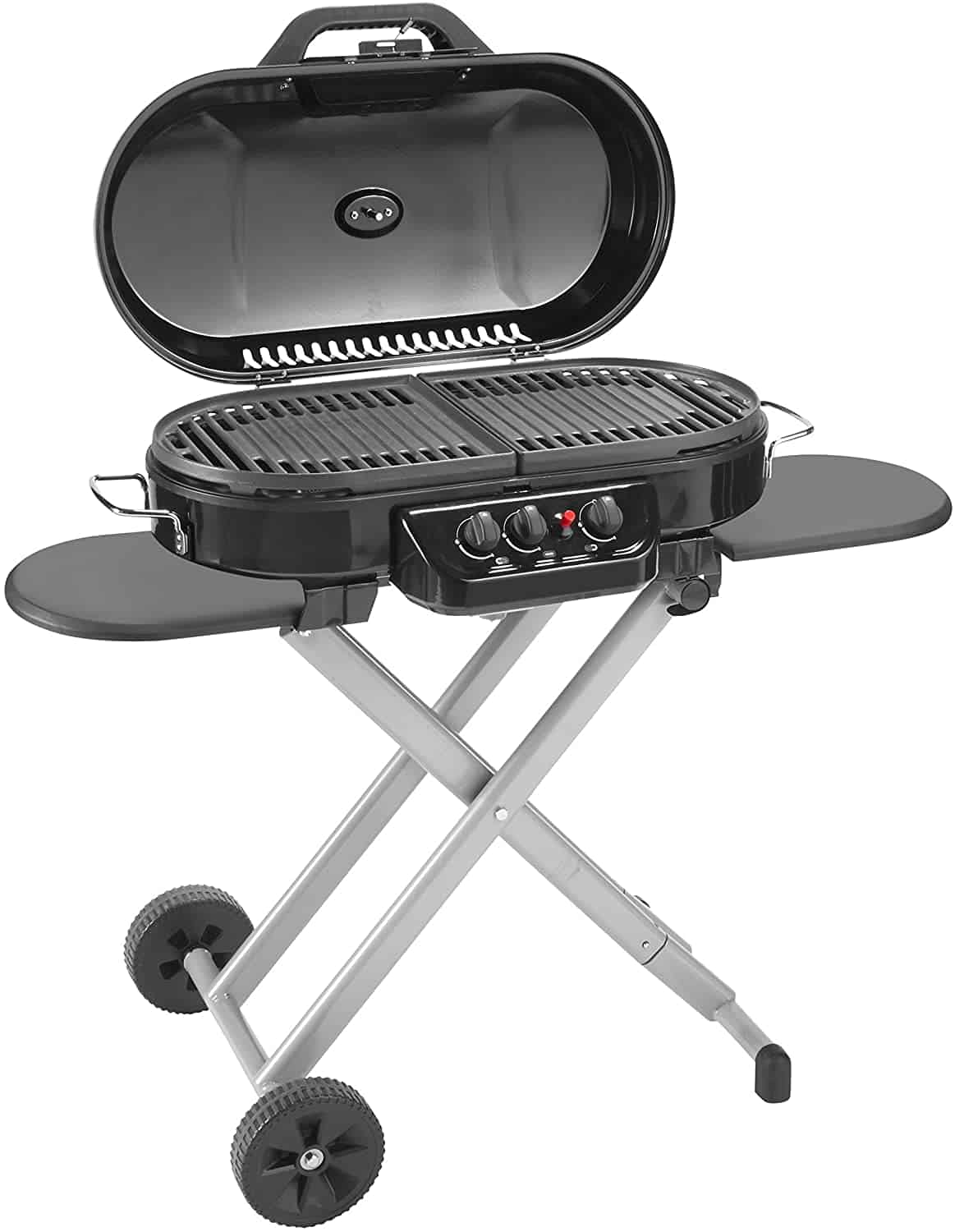 A portable propane grill that is characterized by versatility – the Coleman RoadTrip 285 is mobile, but also has an integrated fold-away stand that offers the comfort of cooking on a full-sized grill.
With the stand folded up, the grill itself doesn't occupy much space, making it perfect for road trips, or for small, compact balconies.
The grill offers a fairly large cooking area – 285 square inches in total – over three burners. This gives you the option to create different heat zones, or switch it up and get the grill to a very high heat really quickly.
There's also a handy grease removal system.
One of the things I love about this grill is that you can replace the grill grates with a separately sold griddle. This ups its versatility considerably and makes it a definite winner for camping trips and tailgate parties.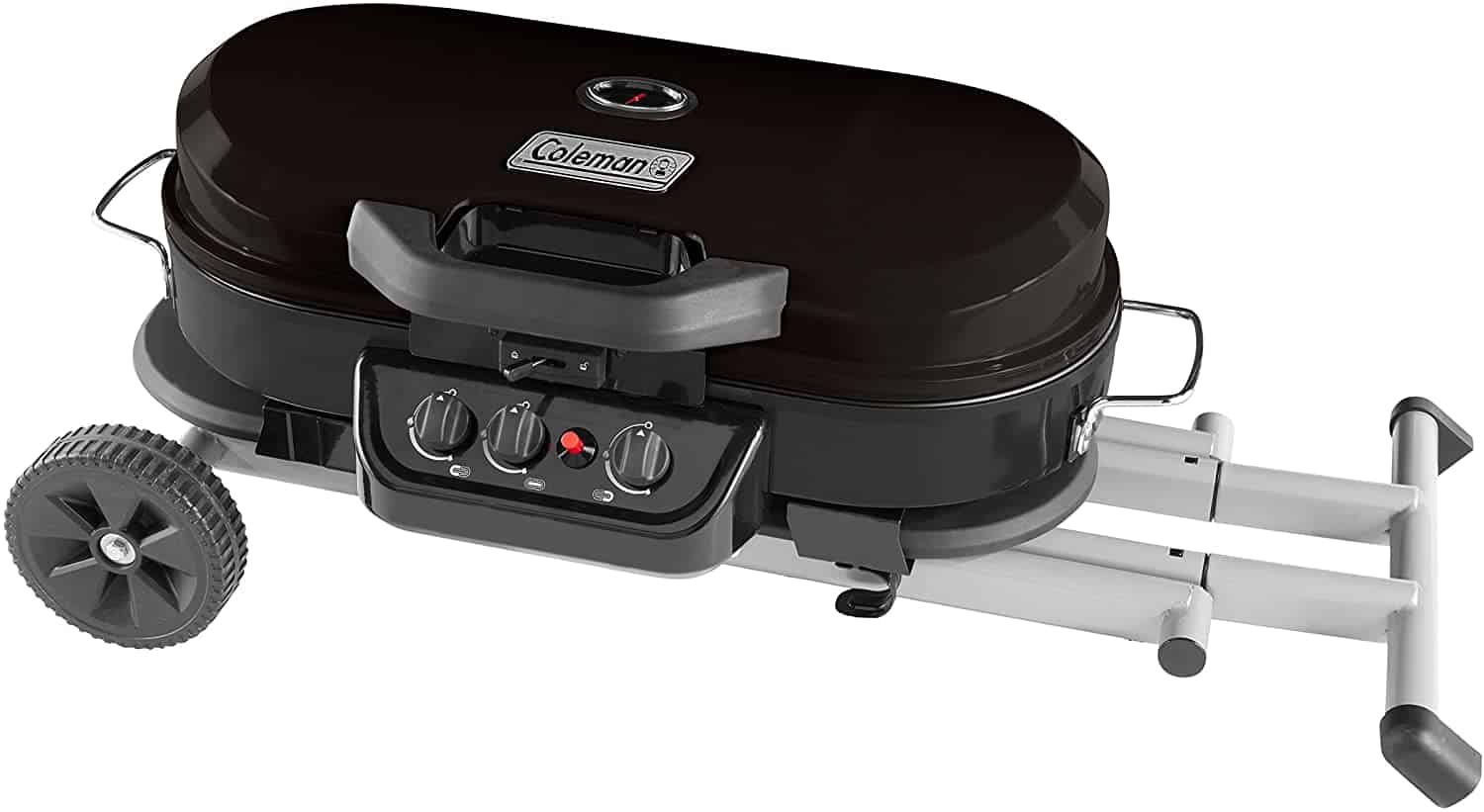 The quality of workmanship is good, and so is the efficiency, but the greatest advantage is mobility. The manufacturers offer an impressive 3-year limited warranty.
Pros
Size & mobility: 285 square inches of cooking space
Burners: 3 burners
Accessories & gadgets: Integrated fold-away stand
Warranty: 3-year limited warranty
Best large gas grill with side burner under $300: Char-Broil TRU-Infrared 3-Burner Gas Grill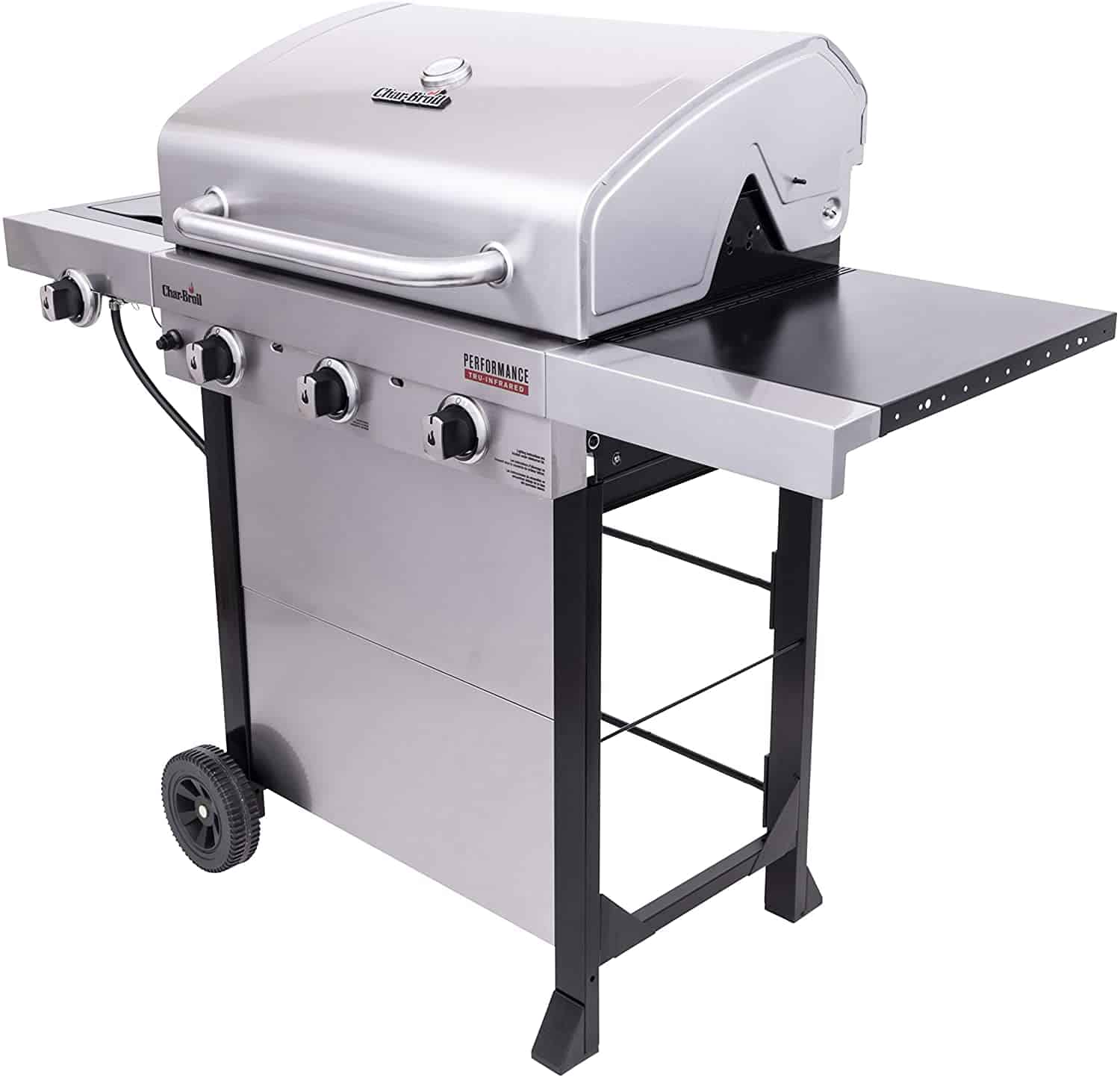 A top suggestion for a larger family, or someone who entertains a lot. The Char-Broil 3-Burner Gas Grill offers 450-square-inches of cooking space, plus a handy side-burner.
The Char-Broil TRU-Infrared technology helps prevent pesky flare-ups, along with a grease collection tray, and the porcelain-coated grates are durable and rust-resistant.
I love the sleek look of the stainless steel and the handy lid-mounted temperature gauge. The side-burner is a really welcome addition.
These are usually only available in more expensive options, so enjoy heating up your sauces and cooking up a storm on this grill!
Judging the quality of workmanship and durability relative to the price, I can say that this is a good investment for a few seasons.
If you look after it well, you shouldn't run into any immediate issues. The manufacturers offer a limited warranty.
Pros
Size & mobility: 450-square-inches of primary cooking space
Burners: 3 Burners plus a handy side burner
Accessories & gadgets: Side burner
Cons
Warranty: The manufacturers offer a limited warranty
Give your grilled meat that something extra with these amazing BBQ rubs
Most durable gas grill under $300: Weber Q2200

This option combines the functionality of a compact grill and the efficiency of a stationary one. I love the result – which is a great little grill that works great in many different situations.
You can add to its functionality by purchasing the additional Q portable cart (sold separately) which turns the table-top grill into a stationary grill.
The Weber Q2200 is a phenomenal grill for anyone who doesn't have a lot of space, or who wants to travel with their grill.
It offers almost as much cooking area as the stationary Char-Broil Performance 300 even though it only comes with one burner.
But thanks to the efficient design and construction of the Weber grill, the burner is extremely effective and heats up very fast. It reaches perfect temperatures for grilling steaks, and you can even get perfect sear marks!
This grill also gets a huge thumbs up from me for the solid Porcelain-enameled, cast-iron cooking grates. The greatest advantage of the Q2200 is versatility.
Today you can cook a small meal on it at home, but tomorrow you can easily go camping with it.
Of course, you don't need to buy the Q Portable Cart, you can use it without a stand like a tabletop grill but due to the convenience and functionality, I really recommend buying it.
The different parts have different levels of warranty, but some are up to 5 years.
Pros
Size & mobility: 280 Square Inches of cooking space, designed for mobility and perfect for camping
Burners: 1 burner
Warranty: The different parts have different levels of warranty, but some are up to 5 years.
Cons
Accessories & gadgets: No additional accessories, but it is a high-quality product for the price.
Using a BBQ Smoker on your Balcony? Watch out for these 10 things
Best 2-burner gas grill under $300: Char-Broil Performance 300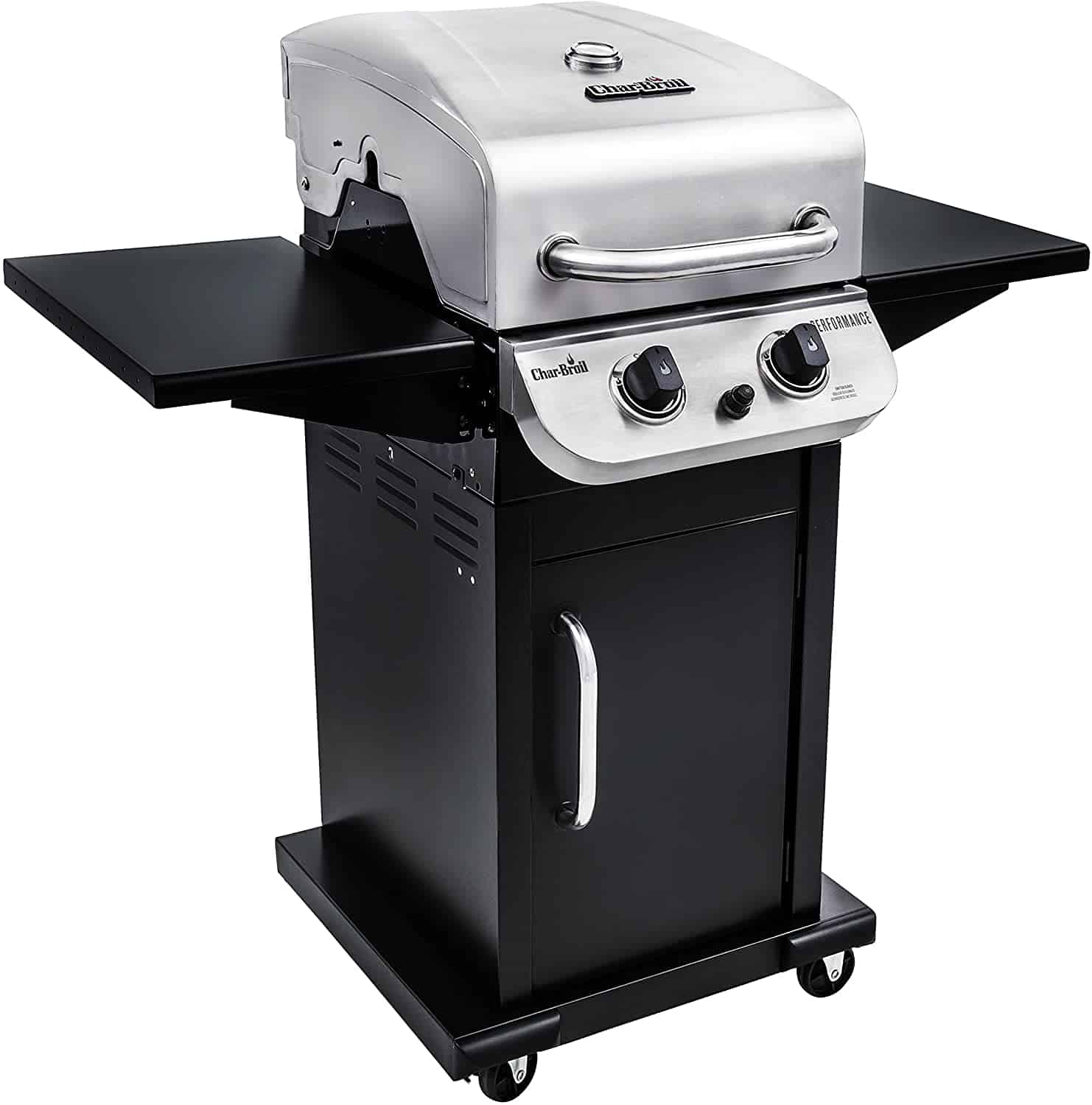 My favorite gas grill below $300 is the Char-Broil Performance 300. While simple, it is really functional, and the quality is impressive considering the slightly larger size.
It offers 300 square inches of main cooking area and two burners. Plus you get some great workspace thanks to the two side shelves which fold down when not in use.
You can hide your grilling accessories in the handy cupboard space below the grill.
The grill comes with a removable grease tray in the back of the grill, which makes cleaning relatively simple.
I like the sleek look of the stainless steel lid which incorporates a thermometer to monitor the internal temperature of the grill.
For this kind of money, it is the top choice. It is small-sized and simple but will give you a good few seasons of fun around the flames.
Pros
Size & mobility: 300 square inches of primary cooking space. It is fairly mobile, but not specifically manufactured for being transported
Burners: 2 Burners
Cons
Accessories & gadgets: No additional accessories, but it is a high-quality product for the price.
Warranty: The manufacturers offer a limited warranty.
Get the most out of your BBQ with these great grill baskets
Takeaway
When it comes to buying a gas grill for a limited budget, you need to focus primarily on quality over quantity of gadgets and features.
A budget of $300 can get you a fairly high-quality product if you look for the right things. I'm sure this list has helped you narrow down the options for your needs. Happy grilling!
Wondering what a bigger budget will get you? These are the best gas grills under $1000
Joost Nusselder, the founder of Lakeside Smokers is a content marketer, dad and loves trying out new food with BBQ Smoking (& Japanese food!) at the heart of his passion, and together with his team he's been creating in-depth blog articles since 2016 to help loyal readers with recipes and cooking tips.