I love creating free content full of tips for my readers, you. I don't accept paid sponsorships, my opinion is my own, but if you find my recommendations helpful and you end up buying something you like through one of my links, I could earn a commission at no extra cost to you.
Learn more
Whether you are cooking for 70 people a day or 1000, the quality of the food you serve matters, it will keep your guests coming back for more!
Many businesses have realized that offering freshly smoked foods to hungry customers has improved their sales!
Have you been thinking about buying a smoker to smoke your own foods right there? Let's look at your options.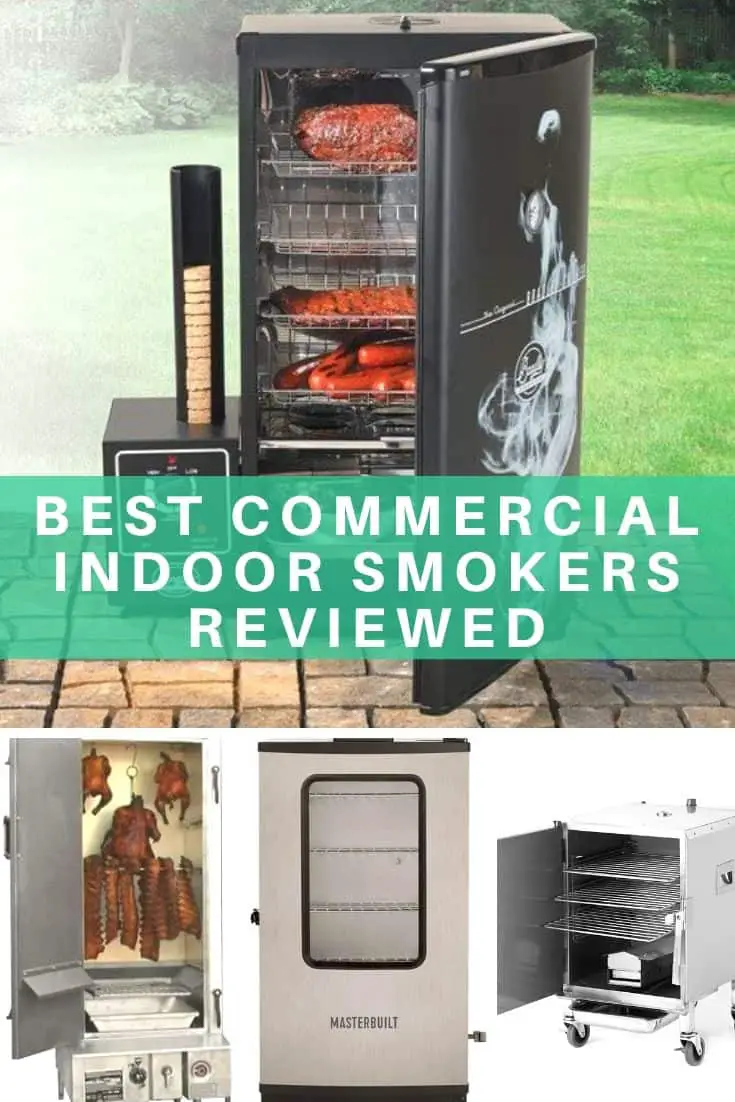 What do you know about commercial indoor smokers? Usually, large indoor smokers  (as opposed to smaller indoor smokers for home use) are used in restaurants; they are known as commercial smokers.
You can use them to smoke your meats fresh for your clients. Imagine, serving a delicious smoked sausage to your customers, without having to sit outside by the fire smoking your sausages for hours beforehand!
If you're serious about smoking but want the easiest and most time-saving option available, I would definitely recommend this Bradley Digital commercial smoker.
You can set it with lots of out-of-the-box settings and it practically does the smoking for you. Besides, it's the perfect size for a small to the medium-sized restaurant because you can smoke on 6 cooking racks simultaneously.
Here's a video with Masterchef Brett McGregor where you can see how it all works:
Getting the right commercial smoker for your barbecue restaurant is important since the smoker you choose to buy will directly affect your day-to-day operations in your kitchen.
Besides, the smoker will also have a big impact on the texture of the meat that you decide to smoke. In this post, we shall highlight different types of smokers that, and also other factors that you need to consider before making your decision.
If you're looking for just a good meat smoker for personal use read this in stead
First, check out the overview of the best commercial smokers and then read the full reviews below. 
What's an indoor smoker like?
Don't be under the impression that indoor smokers are huge open flame contraptions!
In fact, most indoor smokers look like metallic boxes, and they integrate well into restaurant and commercial layouts.
Commercial smoking is a whole different thing compared to smoking at home. Since a restaurant is such a busy environment, with many people in a closed and often cramped space, you need smokers that are not going to be a burn, fire, and smoke hazard.
But there are also small smokers like stovetop smokers or small-sized electric smokers you can use in your home. This is especially useful if you don't have a backyard, garden, or patio area.
How do indoor smokers work?
An indoor smoker works by heating up the wet wood chips you place inside until the chips begin to smoke.
The meat or other food sits on racks inside the smoker or hangs on hooks from the top part of the smoker.
The smoke then penetrates the whole smoker, giving the food that classic smoky flavor.
A smoker also heats up to the desired temperature to cook the food evenly. Actually, most indoor smokers have a feature that controls the temperature automatically, which means you don't have to continually check if the food is smoking at the right temperature.
Do I need to make changes to my kitchen?
Installing an indoor smoker is usually quite simple, and in most cases, you don't need any permits.
You should know that ventilation is essential in any kitchen. Indoor smoking venting can be simple.
Here's what you need to consider beforehand: Add a ductless range hood to deal with the smoke that may potentially rise out of your smoker.
This range hood will allow you to control the smoke in the kitchen easily and maintain good air quality so everyone can breathe comfortably.
Basically, what ductless range hoods do is remove any grease, smoke, steam, and nasty smells from your kitchen.
The hoods usually come with a charcoal filter that purifies the air.
Now, if you are going to use a pellet-fired smoker, you'll need to pay extra attention to venting.
When planning the flue, make sure it can draw air naturally and be sure to clean the flue every six months. Before installing any equipment, always consult the manual and instruction guide.
What should I smoke with my indoor smoker?
Well, you can smoke almost any food. It all depends on what your restaurant offers and what you want your specialty dish to be. It's best to use an electric smoker indoors, and the list you'll find here contains foods that taste good when smoked with an electric smoker. Here is a list of the recommended foods to smoke:
Whole chickens
Chicken quarters
Pork shoulders
Pork butt
Ribs
Prime Rib
Lamb
Sausage
Fish
Salmon
Pork picnic shoulder
Deer
Turkey breast
Tomatoes
Cheese
Artichokes
Bell peppers
Corn
Do you see the variety you can smoke? It doesn't just have to be meat. Yes, the carnivores and omnivores will love smoked foods, but you can cater to vegetarians and vegans with a smoker.
Types of smokers to avoid using indoors
Before you invest money in an indoor smoker, consider all the types of smokers you should AVOID using indoors because they are dangerous!
Charcoal Smokers
You are not allowed to burn charcoal smokers inside your restaurant because it is extremely dangerous unless you get a built-in model. 
Charcoal smokers must be used to smoke outdoors! When charcoal is burned, carbon monoxide is released into the atmosphere.
If you are using a charcoal smoker in a contained indoor space, you risk getting carbon monoxide, and you can end up poisoning your staff and guests, so always avoid doing this!
What commercial indoor smoker should I buy?
If you are looking for a commercial indoor smoker, your best buy will be an electric smoker.
Prices range between $300-13,000, depending on the size, brand, and capacity. In this list of smokers, I will focus on the best indoor electric smokers that have good ratings from customers.
The best way to make an informed decision when shopping is to look at reviews and comments of people who've bought these products.
Before you consider getting that commercial smoker for your BBQ restaurant, you need to consider its size, function, as well as the type of fuel it uses, among other factors.
The best and authentic BBQ is typically prepared in a smoker or a homemade pit, not on a grill—this means, your BBQ restaurant needs a commercial smoker—if you ever want to impress your customers. Let's take a look at what you will need to consider when buying one of these.
What should you consider before buying your commercial smoker?
Purchasing a commercial smoker can be a challenge since it requires you to put some factors and elements into consideration before making your final choice.
Here are some of the major factors that you need to put into consideration before buying your commercial smoker.
Type of smoker
What type of fuel does the smoker use?
You can get commercial electric, gas, charcoal, and pellet smokers.
Electric 
Electric smokers are the perfect 'set it and leave it' smoking solution. 
You don't have to worry about burning wood or charcoal, lugging around a propane cylinder, or dealing with much of a clean-up after you've used one. So, it's a great way to smoke indoors for your restaurant. 
An electric smoker allows you to set the temperature (or Bluetooth app with higher-end models), and then cook the other foods your guests ordered. 
Electric smokers use a heating element, rather than some form of combustible fuel, to create heat. The smoke is created from wood chips suspended above the heating element, so there's no combustion.
Electric smokers are usually built vertically with the heating element at their bottom and the wood and water pans in between.
If you get an electric smoker with briquettes like the Bradley smoker, you can combine the flavors of a pellet smoker with the convenience of the electric.
Gas
A gas smoker is as easy to use as an electronic smoker because propane is widely available. Also, the gas smoker's temperature is easily controlled and can be adjusted to a greater extent than a charcoal or pellet stove.
A gas grill can be started in half the time of a charcoal one. It takes around 15 minutes to go from cold to cooked, which is great if you have limited time, especially in a busy restaurant setting where time is money. 
Charcoal
When it comes to authentic wood-flavored smoky BBQ, nothing beats a charcoal smoker. This is the kind of fuel that adds the most flavor to your meat. 
A charcoal smoker can be a great outdoor patio smoker for your restaurant. Imagine serving up smoked ribs racks to hungry diners during the summer season. But, these are not great for indoor smoking.
One thing to note is that charcoal smokers are more labor-intensive and require more setup.
Also, your chefs and smokers will have to keep watch on the meat at all times as this is not a set-it-and-leave-it device. It takes more work to use a charcoal smoker than a gas or electric smoker. 
Pellet
Pellets grills are the next best thing when it comes to smoky wood-flavored meats. 
The fuel source is small pellets that go inside the hopper and burn for many hours. As the pellets combust, they create heat and smoke in the cooking chamber.
Pellet smokers can be described as a combination of an oven and a smoker. These smokers combine the smokey flavors of real combustion with the convenience of an electric smoker.
A pellet smoker has many great advantages. You can use it as an oven and grill, making it a one-stop cooking solution.
Location
The location that you intend to install your smoker is the first thing that you need to put into consideration before buying your commercial smoker.
The safety regulations governing commercial smokers in restaurants and public areas differ, depending on your location.
Some commercial smokers are designed for stationary use, while others are designed to be pulled on trailers, and also to be moved.
Outdoor smokers
If you are planning to buy an outdoor smoker for your restaurant, then you should ensure that you follow all the rules governing its setup in your area.
Most cities that allow restaurants to have their commercial smokers outdoors have regulations that determine how far the smoker should be from the building, the type of ventilation system the smoker has, the maintenance of the unit, as well as how its fuel is stored.
Outdoor commercial smokers come with a number of benefits. Since most of these smokers come with portability features, they are ideal for restaurants that attract their new customers through outdoor fairs and food events.
Outdoor commercial smokers are less expensive and much easier to set up since they don't need any interior installation.
In addition to this, BBQ pros sat that outdoor smokers can produce the best results in terms of the texture and flavor of the food.
Indoor smokers
If your restaurant is located in a densely populated or fire-prone area, then you are not legally allowed to have an outdoor smoker.
However, you will be required to have an indoor smoker if you desire to serve authentic barbecue. Indoor commercial smokers will be your only option, and their installation requires experts.
Just like outdoor smokers, indoor smokers come in different sizes and configurations.
Some indoor smokers are vertical in shape, which makes them ideal for restaurant kitchens that have a small footprint. Others are short, and their design allows them to be installed under workspaces.
Before you choose any indoor smoker, it is advisable to ensure that you take the measurements of the available space in your kitchen.
In addition, you need to ensure that you know how the ventilation system will function—and whether you will need to make any structural changes in your kitchen for the installation to be complete.
Durability
When you go out shopping for your commercial smoker, you should make sure that you search for a smoker that can last for a long period of time without the need of repairing or renewing it frequently.
A durable commercial smoker does not only save you money for repairs, or that you would have used to purchase another, but it will also save you a lot of time that you'd spent repairing it in case it broke down.
Therefore, it is essential to check whether the smoker has a limited lifetime or long-term warranty.
Size
Because you will be buying your smoker for commercial purposes, it is essential to ensure that you search for a smoker that can meet your demand within a very short period of time.
Therefore, you should ensure that you check the size of the cooking surface, the number of racks, as well as the capacity of the smoker's BTUs before purchasing it. BTUs directly affect how powerful the smoker is and what temperature it can reach. 
Keep in mind you don't need a high temperature for smoking but it should still be powerful, especially if it's large. 
Also read: these are the best pulled pork recipes you'll find
Temperature control and adjustment
The best smoker should allow you to control or adjust its temperature—this is a key thing you should consider before when buying a commercial smoker.
Therefore, always check whether the smoker has temperature adjustment and control—as this is an essential feature.
These features not only assist in preventing food from being overcooked or burnt, but they also save you valuable time that you might spend waiting and monitoring your smoker.
Also read: At What Temperature do Wood Chips Smoke? Guide to Getting it Right
Construction
Most commercial smokers that are designed with stainless steel tend to perform better and even last for an extended period of time. Stainless steel material also prevents these smokers from fading or rusting.
Therefore, you need to check the material used to design and construct the smoker before making your decision.
Best commercial smokers for restaurants reviewed
Best overall pellet electric commercial smoker: Bradley Digital 6-Rack Smoker
type: electric with pellets
smoking area: 6 racks with a smoking area of 858 sq
digital controls: yes, fully digital controls
dimensions: 17 W x 14 D x 39 H inches
When you're smoking meat to serve at your restaurants, you need a digitally controlled smoker that you can set and leave. Then, once ready your guests can enjoy those fresh-smoked meats. 
The Bradley Digital 6-Rack Smoker comes with a number of notable features that will find with the best commercial smokers out there in the market. 
One amazing thing about the Bradley Digital 6-Rack Smoker is that it comes with digital technology, which makes it easier to control the cooking time, temperature, and smoke.
A busy kitchen needs a smoker that staff can control easily. The benefit of digital technology is that it helps you set how much smoke you need, the smoking duration, and the correct temperature for each type of food so there's no more guesswork needed. 
The smoker comes with an internal temperature sensor, which makes the cooking process much simpler and you can be sure of perfect precision every time.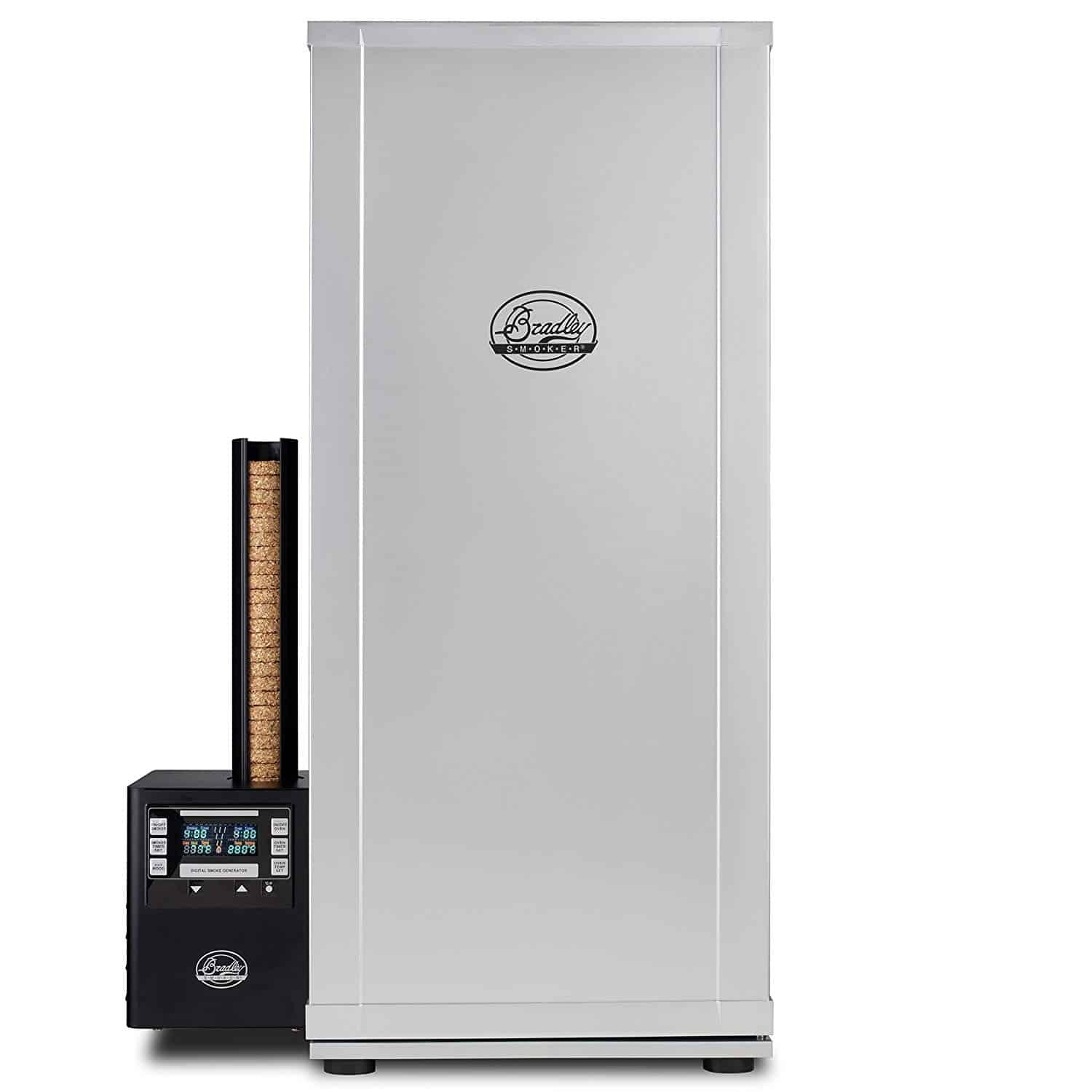 This is the smoker that you need for complete house entertainment, and preparing special foods, either outdoors or indoors.
What sets this smoker apart from a basic electric one like the Traeger is that even though it's electric, you use pellet briquettes that infuse the meat with that authentic wood flavors. 
Thus, this smoker will allow your guests to enjoy the flavor that comes with real smoking fully.
When you get this commercial smoker, you will get the opportunity to enjoy its stress-free methods when you want to smoke, BBQ, and even roast. Bradley smokers are well-known in the restaurant world. This product is considered 'stylish' and highly functional. It is powered by bisquettes – which are round pellets. Here's what the Bradley smoker offers:
Eight hours of continuous smoke without having to refill the briquettes. 
It has two elements: a 125-Watt smoking element and a 500-Watt cooking element.
The product is made of the highest quality and durable stainless steel. It comes fully insulated, ensuring excellent heat retention.
It comes with an attached smoke generator.
There are 6 smoking racks.
Can produce up to 280 degrees F of heat.
This smoker is built for use in restaurants and catering businesses, so it is more powerful than household smoker versions.
Versatility: this smoker can be used both indoors and outdoors to cook and smoke a large variety of foods. It is a lightweight, but large smoker that may be used in any type of commercial setting. This smoker can be used for cold and hot smoking, and people love the smokey taste they achieve when using this smoker.
The only con, or disadvantage of an electric smoker, is the lack of authentic smoke 'marks' on the meat. A traditional smoker leaves these lines or smoke rings on your food, and many people look for that to assess the 'authenticity of their BBQ.
But, don't worry too much about this because electric smokers give a great smoky flavor to your dish, regardless!
The Bradley Digital 6-Rack Smoker is completely insulated, which makes it possible to smoke on hot or cold days while retaining the desired smoking temperature. Therefore, the weather won't affect the ability to serve your guests the tastiest smoked foods!
Since it is built from stainless steel, the smoker is known for remarkable heat retention. But also, stainless steel is easier to clean than other metals thus the clean-up process is much simpler.
The electric smoker comes equipped with a number of features, including electric control insulated cabinet, as well as an auto smoke generator, which allows the smoker to eliminate extreme changes in temperature, as well as any disruption in smoke production.
Briquettes are pretty easy to find and relatively affordable but the good news is that they come in 9 different wood flavors. 
Another notable thing about the Bradley Digital 6-Rack Smoker is that it comes equipped with separate burners for smoke and the oven. So, you can make ribs, sausages but also foods like smoked mac n cheese. This is especially useful if you have a diverse menu.
What you need to note about the Bradley Digital 6-Rack Smoker is that it's one of today's best pellet electric restaurant smokers and it's very solid and durable.
It's the recommended product for anyone who needs outstanding grilling equipment that is consistent, and 100% convenient for cooking.
Best large commercial pellet smoker: Cookshack FEC240 Fast Eddy's
type: electric with pellets
smoking area: 3,128 sq. in. or 21.72 sq. ft
digital controls: Iq5 electronic control system
dimensions: 76 x 48 x 36 inches
Pellet smokers are not very common in commercial kitchens. But a new pellet oven for smoking is available from a manufacturer called Cookshack.
It's the best solution for amazing smoky flavors and aromas but it's still safe for use indoors and offers lots of cooking space. 
It has some apparent conveniences: the wood pellets are easy to use, affordable, and the food will have that tasty smoke flavor.
Wood pellet smokers are compact and perfectly suited for commercial smoking; you can cook enough food for a large group of diners. Also, pellets are easy to clean up, and they come in a large variety of flavors so that you can offer variety to your clients.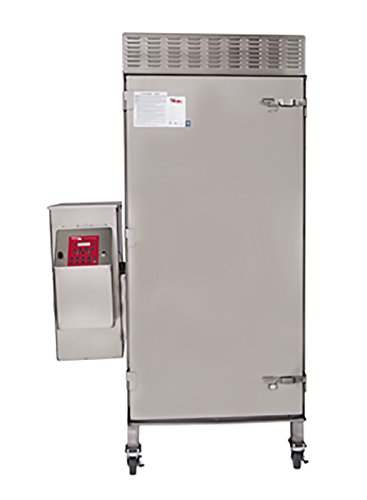 Cookshack is the most famous brand, well-known for its pellet smoker ovens. This 'commercial 100% wood-burning pellet-fired smoker oven' is perfect for restaurants.
The best part about this smoker is that it's wood-burning and many guests will be able to taste the difference between the smoked ribs you smoke in this device vs other restaurants that use electric smokers only. 
The smoker has the new Iq5 electronic control system located on the side where you pretty much program the oven smoker to do the work. 
It has a digital controller that allows you to set customizable cooking pre-sets, as well as alarms. and then you can download information onto a USB flash drive.
Pellets don't really cause temperature fluctuations and they burn for up to 8 hours so you don't need to keep checking on the smoker all the time. 
The oven has an offset firebox and a convection fan that circulates the smoke and heat, ensuring even temperature in the smoker. Also, the re-circulation feature will make the food even more flavorful. 
If you're concerned about operating costs, then you should know that this smoker has a small footprint.
But, even though it won't break the bank when it comes to operating costs, this is a very expensive premium smoker.  
However, restaurant owners are saying that the Cookshank is worth the price because it offers amazing flavors and is very well-built. 
It's also a very large capacity smoker and you can smoke up to 60 whole chickens or 250 lbs of pork butt at once. Thus, this is the right size for large-scale operations, big restaurants, and catering companies. 
The smoker is completely safe for indoor use but it requires a ventilation system but you can install that once your smoker arrives. 
I wouldn't recommend this smoker for small restaurants because of the high price, but for larger establishments, it truly beats all the others in almost every category. 
Overall, pellets are easy to use and clean up. They produce minimal quantities of ash, so clean-up and removal of ashes are easy.
There is no fire hazard because you are not working with any hot embers or coal bits that could burn so it's a safe option for commercial kitchens. 
Bradley vs Cookshack
This is a battle of the pellet smokers but both are excellent for your commercial kitchen. The main difference here is the price. 
Bradley electric smokers with briquettes cost between $900-1300 whereas a professional-grade Cookshack smoker sets you back about $13k.
But, it also depends on the size of your restaurant. If you serve hundreds of guests per day, a large Cookshack smoker is the best choice because you have much more cooking space compared to the smaller Bradley which only has 6 smoking racks. 
Both devices have digital controls and digital temperature control features so they are easy to control and won't have the staff confused. 
In terms of insulation, the Cookshack is better insulated because it has a double-walled stainless steel construction. It also has a special insulation material that keeps the exterior of the cooker completely cool so you can touch and operate it safely. 
If you have a diverse menu and smoked meats are not your main focus, then a more affordable smoker like the Bradley is the logical choice. It infuses the meat with delicious wood flavors but it's cost-effective to run in the long run and is well-built.
But, if you are looking for a true professional smoker with much better quality components and a durable build, Cookshack is the better option.
Also, the flavors are a bit more intense and the colors of the food are almost identical to using a charcoal smoker. Bradley heating elements are not quite up to par with the Cookshack components so they might need replacing more often. 
Best Real Wood Fire Commercial Smoker: KBQ C-60 BBQ Smoker Pit
type: wood fired
smoking area: 4 racks, 6-lb capacity
digital controls: no
dimensions: 25.59 x 19.29 x 41.73 inches
If you're looking to smoke the tastiest foods using wood, then you need to get your hands on the KBQ C-60 BBQ Smoker Pit. It's designed by a Texas veteran and true authentic smoking pitmaster to deliver outstanding flavor. 
Before I go on, I just want to say that this is not your traditional smoker and it's not a 'set it and leave it' type of device so you need to have someone operating the smoker AT ALL TIMES.
The KBQ is an outdoor smoker so it's best if your restaurant has outdoor cooking space. 
It is one of the best-preferred smokers by many people. Many people who have used this smoker consider it to be one of the most innovative BBQ smokers to be constructed in the modern-day.
The KBQ C-60 BBQ Smoker Pit will always give you amazing quality smoked meat and food.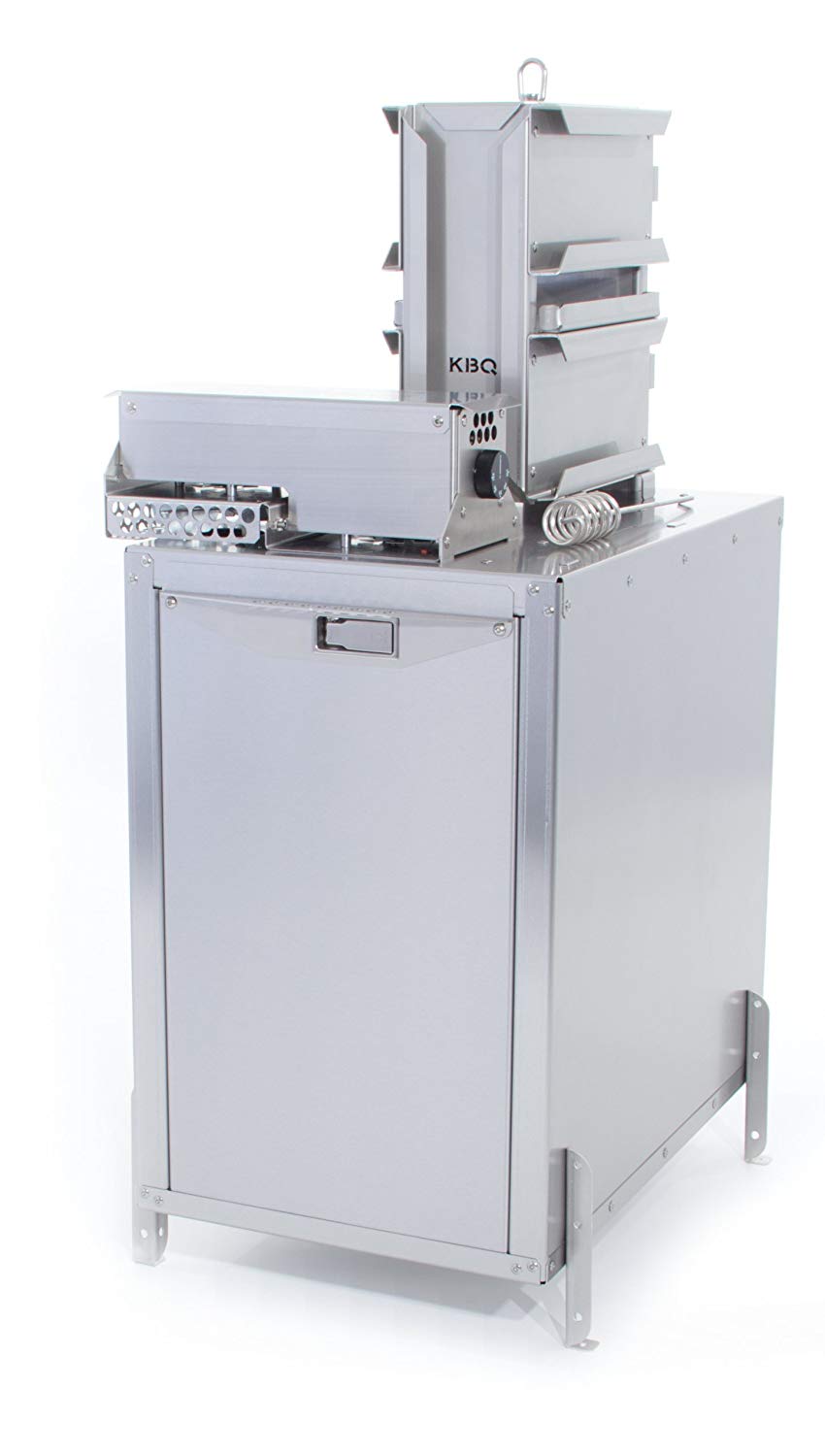 One notable thing about this smoker is that it uses real wood fire—not gas, charcoal, pellet, or electric heat.
With its inverted flame, the KBQ C-60 BBQ Smoker Pit automatically produces perfect thin-blue smoke and comes with a control box that maintains the smoker's temperature automatically.
If you are searching for a real smoker with functions that won't give you headaches, heartaches, and stress, then consider going for the KBQ C-60 BBQ Smoker Pit. While it's not digitally controlled, it's more a classic old-school way of smoking. 
So long as you can place a log into a box, you can easily produce the perfect thin blue smoker and great BBQ with the amazing KBQ C-60 BBQ Smoker Pit.
In terms of size, the smoker can hold up to 60 pounds of capacity with 12-position racks. The KBQ C-60 BBQ Smoker Pit comes with 4 wire shelves, which are easily exchangeable with full-size hotel steam pans.
You can also move the smoker around so portability is a bonus feature that most commercial smokers don't really offer. The smoker has 3-inch wheels, pre-mounted on its rare legs.
There is one important downside to consider. If you're looking for an indoor set it and forget it type of device, this is definitely not the one. You need to tend to the smoker to add logs every half an hour or so.
Overall, I'm not surprised that this BBQ smoker has been voted one of the best. 
The quality of your food and meat will be amazing so it's ideal for BBQ festivals where you want to impress your customers with the kind of true Southern-style smoked meats they're expecting. 
It will give you the ideal smoky flavor you need for your cooking, roasting, and baking of biscuits, pizzas, hot dogs, burgers, veggies, ribs, and steaks.
Best wood pellet commercial smoker: Camp Chef Woodwind Pellet Grill with Sear Box
type: pellet
smoking area: 4 racks, 6-lb capacity
digital controls: yes
WIFI & Bluetooth included
dimensions: 30 x 43 x 49 inches
If you want to offer some delicious BBQ foods on your menu including ribs, burgers, or smoked brisket a combo grill and smoker is a great choice. The Camp Chef Woodwind Pellet Grill is the ideal pellet grill to smoke, bake and roast your food with little stress.
Your employees won't feel frustrated having to use this outdoor pellet grill because it has modern features and a practical design with great temperature control measures.
But best of all, it's controlled via WIFI & Bluetooth PID controller so it's definitely a step up from old-style pellet grills like the earlier Camp Chef models when you had to sit by the grill all day.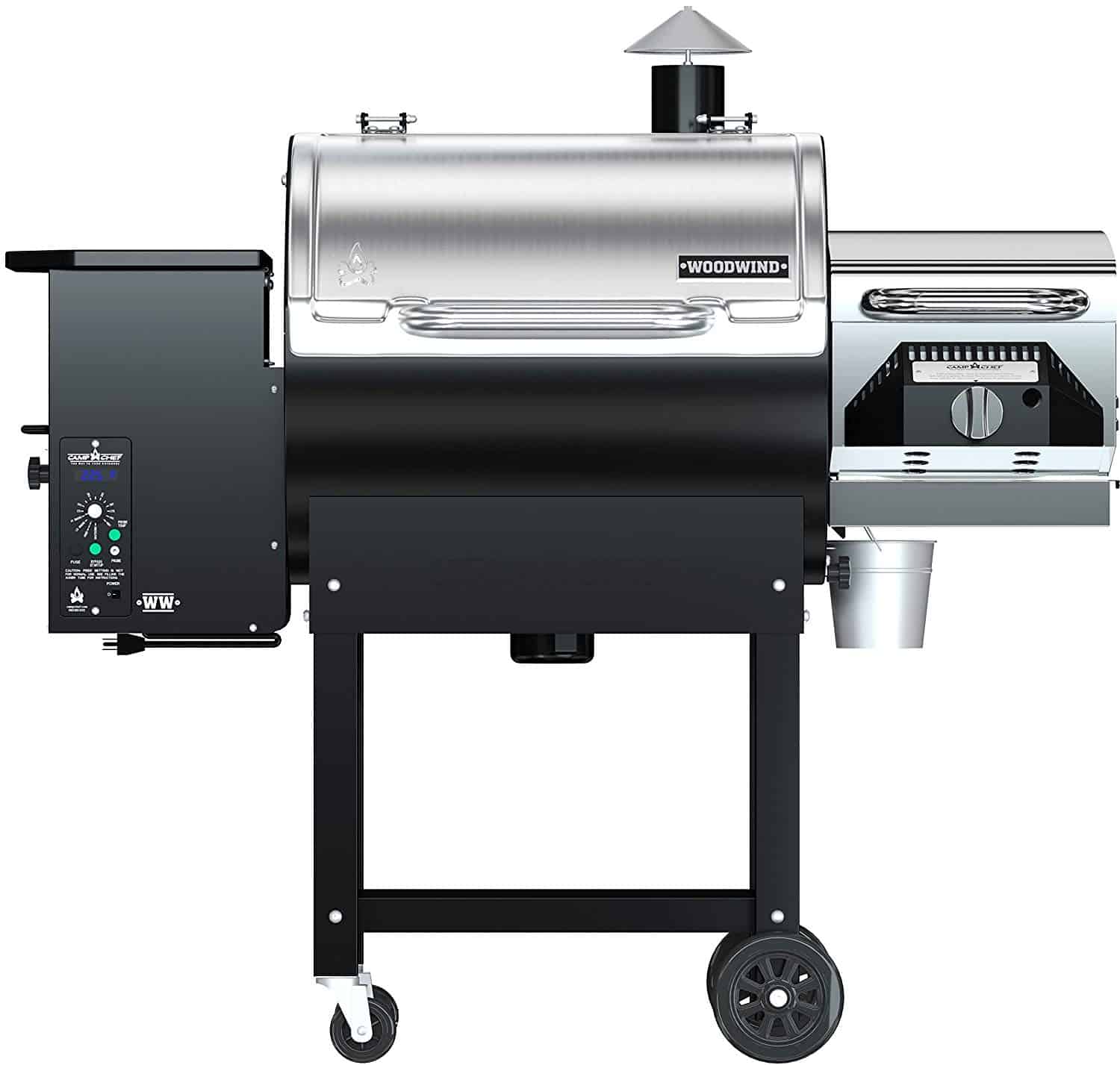 With this grill, you will no longer complain about bad grilling times, and it will turn you into the pro you've always desired to be. You only need to fire up the grill and allow it to roast, smoke, or bake your favorite food as you do other activities.
The grill comes with more dynamic features that will allow you to enjoy more delicious food. First of all, you need to keep in mind that this is the ultimate convenient grill and smoker combo.
With the app, you can control the cooking temperature with 4 meat probe ports and 4 meat probes. You also get a sear box that heats up to 900 F, if you want to grill rather than smoke foods.
With premium hardwood pellets for fueling, this smoker quickly produces clean heat and smoke, while infusing a savory, smoky taste within your food. It's nearly as intense as the charcoal smoker but without needing to worry about temperature control. 
This is a result of the integrated SMART SMOKE TECHNOLOGY and it maintains optimal heat for you while producing just the right volume of smoke. There are 10 smoke settings to choose from. 
If you're thinking "should I get a grill for smoking?" or "is it gonna work?" then let me tell you that this smoker and grill combo is very versatile. It lets you cook at the desired temperature from between 160° F and 500° F.
Finally, I want to talk about how large and spacious it is considering it's a regular outdoor grill and smoker, not really a commercial size.
It has a spacious cooking area of about 570 square inches so it's big enough for an outdoor patio restaurant or smaller establishments. 
Many customers are torn between buying the Camp Chef with WIFI or the Traeger with the same feature. People always complain about the Traeger WIFI controls because they disconnect and this one is a better option. 
The Camp Chef WIFI connects to your phone easily although there are still some glitches that need fixing. But, overall it's a better choice, check out this demonstration:
With the Camp Chef Woodwind Pellet Grill, you will always achieve remarkable results—no matter whatever you are smoking, baking, grilling, barbecuing, or searing.
You should consider getting this product if you have not yet settled on a particular smoker.
Check the latest prices and availability here 
KBQ Log fire vs Camp Chef WIFI pellet grill & smoke combo
For the restaurant that only offers seasonal smoked meats or has a large enough outdoor cooking space for a smoker, the pellet grill and the wood-fired smoker are top options. 
What I like about the wood-fired KBQ smoker is that it's fueled by real wood logs and thus you get the most amazing smoky flavor you could ask for. The pellet grills offer a similar flavor but with much less work and hassle. 
If you don't have someone who can smoke and stand by non-stop, then the KBQ is not for you. It needs constant tending-to but it's perfect if you like to offer delicious menu items like smoked salmon, seafood, pork, chicken, and of course, beef brisket, etc.
The whole smoker is designed with specially patented technology that offers amazing smoke rings. 
On the other hand, the Camp Chef includes the most up-to-date modern features like WIFI and Bluetooth connectivity which the KBQ definitely doesn't! 
A bonus is that the Camp chef is a grill and smoker combo so it's more versatile and you can cook at high temperatures too. 
Pellet grills are notoriously amazing for great flavors but they are also easy to operate and use because you can set the preferred temperature and then leave it for a while so you can work on other food prep and cooking tasks. 
It depends on what your business needs – if you want to specialize in smoked foods, then I recommend the innovative KBQ but if you want more cooking possibilities, the Camp Chef might be more suitable. 
Best charcoal commercial smoker: Fire Magic Charcoal BBQ Smoker
type: charcoal 
smoking area: 24 in. x 18 in
digital controls: no
dimensions: 19.8 x 32.2 x 25.1 inches
So, you have a fully equipped kitchen but you still have space for a built-in grill and smoker right? The Fire Magic Charcoal BBQ Smoker is the best type of built-in commercial smoker, but you can use it in your home kitchen too!
It goes on top of the counter and lets you smoke various meats, seafood, veggies, cheese, tofu, and whatever else you like! 
One of the benefits of this model is that it comes with a warming rack so if the side dishes are not ready to serve yet, you can keep them warm and surely your guests won't be disappointed. 
In case you haven't heard of this brand yet, FireMagic is a manufacturer of premium stainless steel charcoal and gas grills, which are well preferred by many people around the globe.
The overall consensus is that the Fire Magic Charcoal Bbq Smoker is one of the best commercial smokers you will find out there in the market because it's a perfect solution for tight spaces and you can get an optional infrared burner installed too if you want. Therefore, you can spend less time cooking each dish on your menu.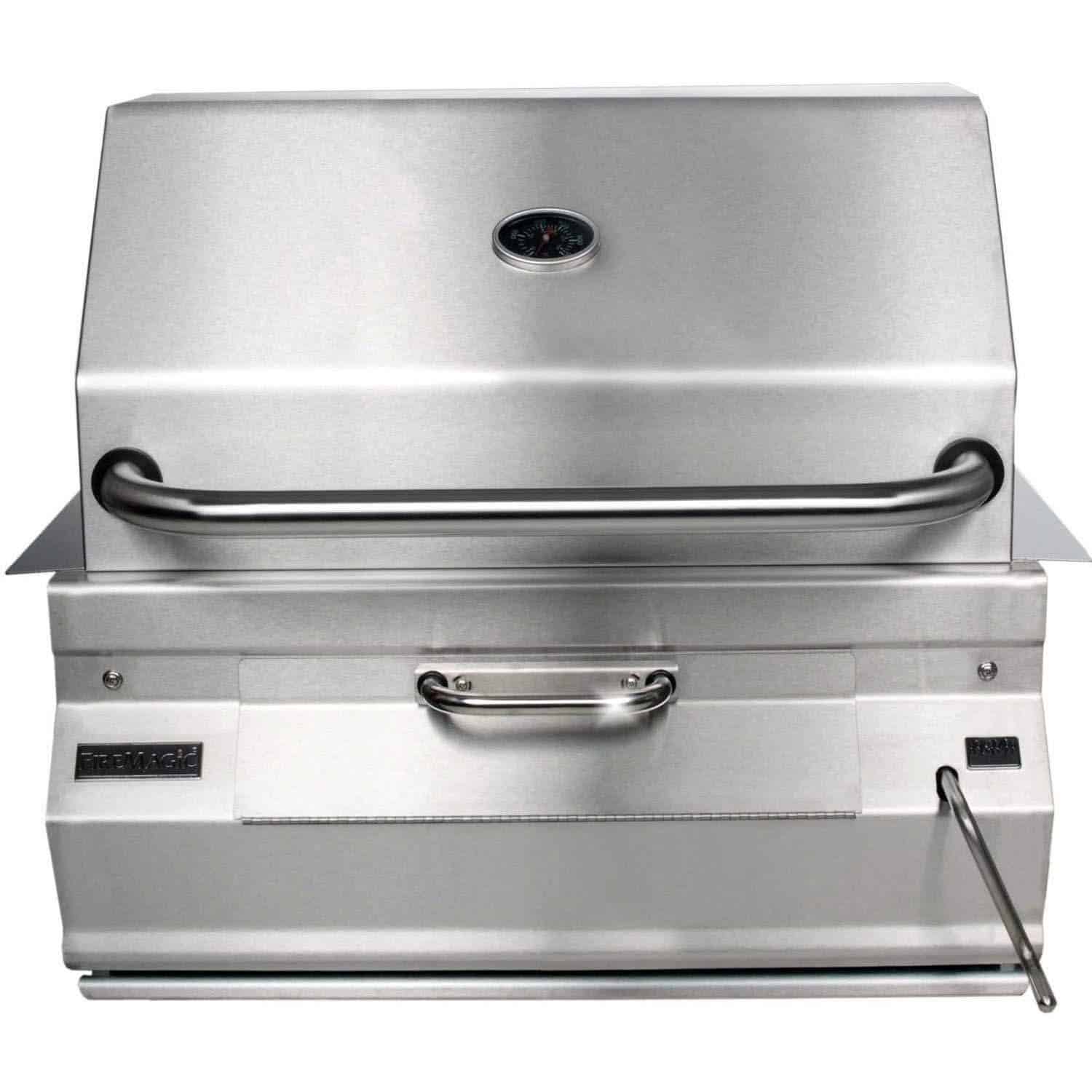 The smoker is made of commercial-grade quality materials, and it's a real hi-tech commercial smoker. In addition to this, the smoker comes with around 5 trays to hold your favorite foods as you smoke.
The smoker also comes with dual top smokestacks, as well as air intake at the bottom of the heating chamber, which allows clear-cut temperature control. It offers a remarkable temperature range of up to 450 degrees F.
One minor problem with this smoker is that there are some gaps on the bottom where the ashtray is located it prevents you from closing off the air supply completely. This might throw off some of your temperature control measures. 
This commercial smoker is also equipped with a digital thermometer and meat probe, for improved accuracy and convenience whenever you are cooking.
Although the design is simple, this charcoal commercial smoker has a well-insulated door—with an adjustable seal.
You get a cooking surface area of around 1640 sq. in so that's quite a lot of space and enough to feed a hungry crowd if you have a small to mid-sized restaurant.
Plus you're offering the tastiest charcoal wood-flavored smoked meats and let's face it – charcoal bbq still tastes the best. 
Cleaning the grill is pretty easy because it has a removable tray for convenience. 
The Best charcoal commercial smoker will not give you a hard time when it comes to its usage and can be transported with lots of ease. This is the smoker you should consider using in your day-to-day smoking activities.
Also read: the best infrared grill you can buy today
Best low commercial electric smoker: Smokin-It Model #1
type: electric
smoking area: 22 lbs. of meat capacity per load
digital controls: no, uses a rheostat
dimensions: 12.5 x 17.25 x 13.5 inches
The safest indoor smokers are electric because you don't need to supervise the smoker nonstop, and there is no risk of anything nearby catching fire from open flames.
The Smokin-It model is an official NSF Certified safe indoor electric smoker for restaurant and commercial use.
Thus, this is a completely safe smoker that gives you delicious smoked foods without any smelly smoke and it doesn't set off your fire alarms. 
Since you won't end up with smoke in your house or restaurant, you can rest assured that it's a great fit for small kitchens and tight spaces.
The smoker has wheels so it's very easy to move around the kitchen. This portability is a feature that people really like about it. Also, it only weighs 59 pounds so staff can maneuver it easily. 
In fact, this smoker is quite small and very low. You can't smoke more than 22 lbs of meat at once, but if you're making specialty foods like smoked ham for sandwiches, it's probably large enough. 
But just because it's small, it's still powerful and mighty because the smoker contains a 400 Watt heating element and it heats up fast. 
The smoker is made of quality stainless steel, making it durable. It has 3 stainless steel grilling racks which are ways to clean with hot water and dish soap. 
Did you know that you can get almost the same smoke flavors with an electric smoker that you would get on a charcoal device?
With this indoor electric smoker, you can smoke fish, poultry, game, red meats, and even vegetables or cheese! The reason people love indoor electric smokers is that they're the lowest-maintenance smokers out there.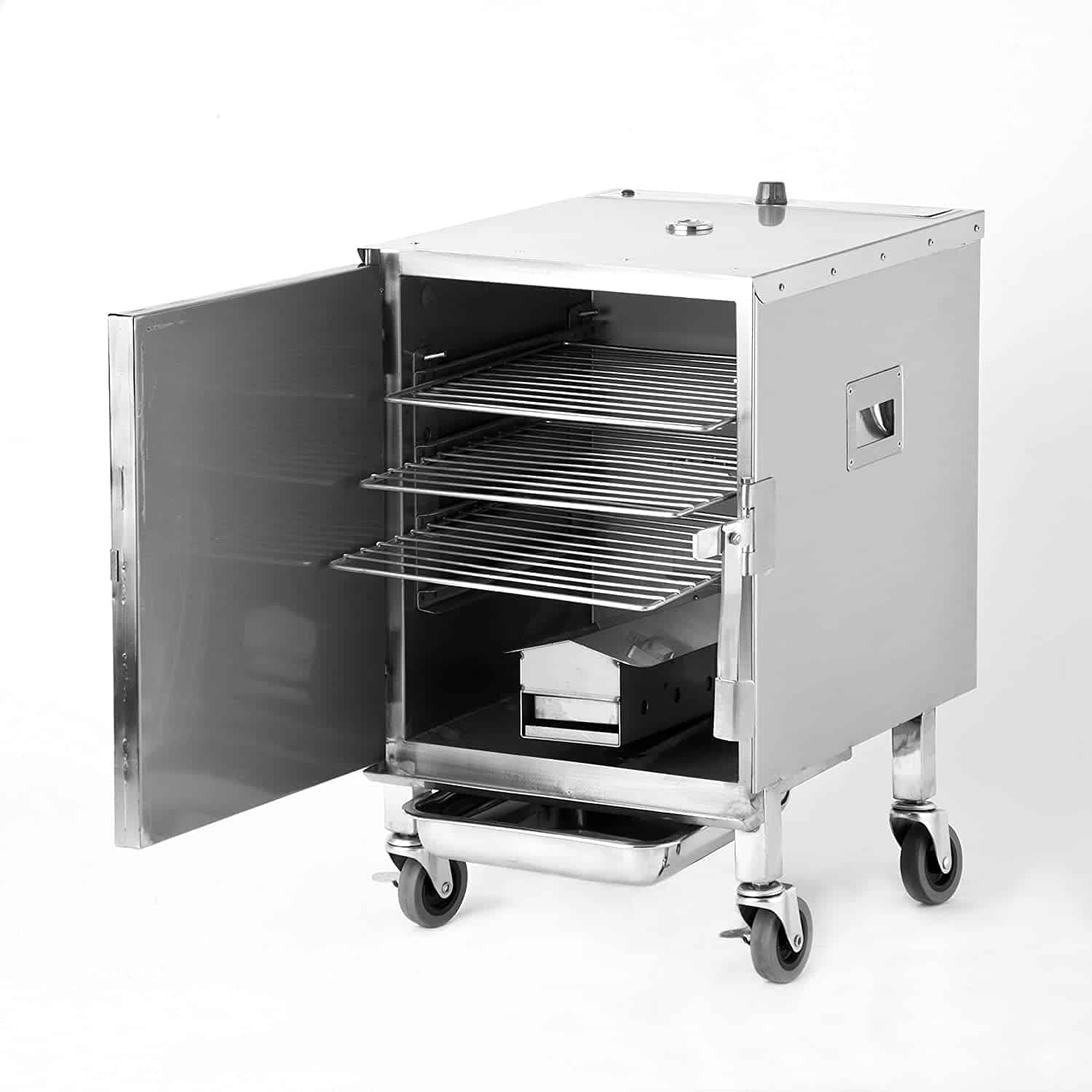 This smoker is very popular in smaller and mid-sized restaurants. The shape is boxy, it is small and compact but has an excellent price, coming in at around USD 350. With this product, you get a lot of value for your money.
Here's one thing you need to know: this smoker is an indoor use smoker but requires a source of outdoor ventilation at a maximum of 70 CFM.
Ok, now let's see why customers prefer this product:
Low wood consumption: the product uses less wood than other models but still creates enough smoke to give food an excellent flavor. Meat gets a 'pink smoke ring,' which is similar to what you get with wood-smoked foods in traditional outdoor smokers.
High-quality product: people love the quality of the smoker. It is made of stainless steel and is very durable, doesn't dent or scratch easily. It has an excellent compression door, which is a great seal, you won't get any smoke coming out.
Fire Magic Charcoal BBQ Smoker vs Smokin-It Model #1
These two smokers are both excellent solutions for small kitchens and tight spaces. 
If you want a smoking method that is both convenient and easy, the electric Smokin-It model is the best choice. Because it's an electric smoker, you plug it in and then add your wood chips and let it do the smoking. You don't need to stand by the smoker and it's safe to use. 
Also, keep in mind it's a certified smoker so you can use it safely inside the restaurant. 
On the other hand, if you have specialized cooks who love to work with a charcoal smoker, then a small smoker like the Fire Magic is a great countertop option. It offers a much more intense smoky flavor. Honestly, it tastes just like true Southern BBQ and there's no beating that. 
So, if flavor is more important to you, then the charcoal smoker is a good choice whereas if you're all about quick and easy smoked meats, an electric model like the Smokin-It is better.
After all, you can set it and leave it for a while and go on to other important tasks without needing an extra person to maneuver the charcoal smoker. 
A final major difference is the portability. The Fire Magic is not a portable smoker whereas the Smokin-It model has portable wheels and it's the perfect small smoker for every small or mid-sized commercial kitchen. 
Best gas commercial smoker: Dyna-Glo DGW1904BDP-D 43″ Wide Body LP Gas Smoker
type: gas
smoking area: 1,235 square inches
digital controls: no it has knobs instead
dimensions: 20.35 x 31.28 x 56.55 inches & 43 inches
You might be debating between Dyna-Glo and the Landmann gas smoker. After all, these two models are highly popular among pitmasters.
But, if you need an extra-large gas smoker to smoke up delicious dishes for your guests, then look no further than the Dyna-Glo 43″ because the cooking grates are customizable and the powder-coated steel body is one of the most long-lasting. 
Also, it's designed to make your life easier because it has a dual door design. This allows you to refill the water tray and add wood into the smoker box without opening the door to the cooking chamber. Thus, you don't need to worry about disturbing the temperature in there while smoking.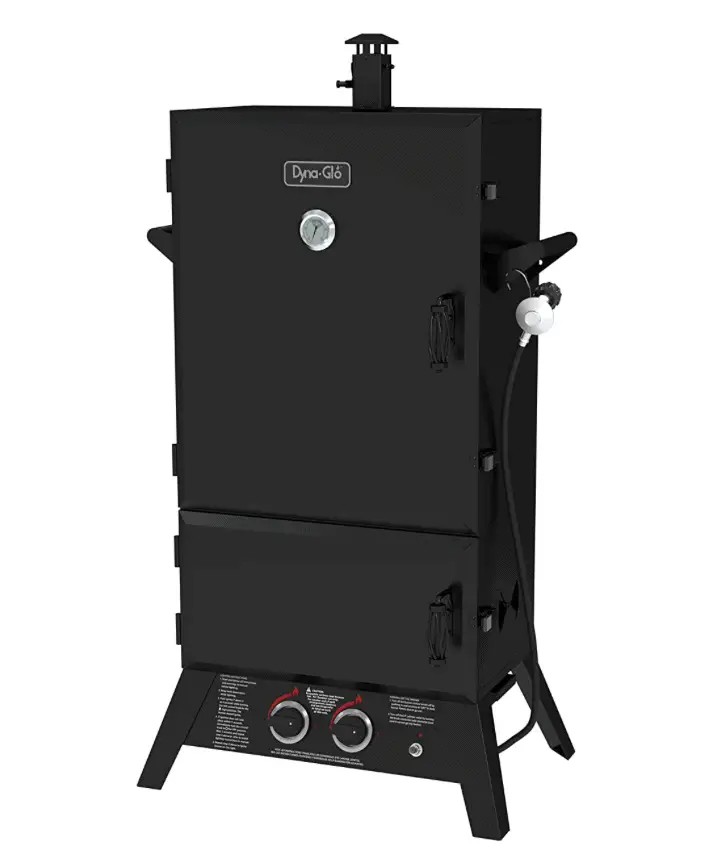 What makes it a bit better than some of the Landmann models is the door lining. The Dyna-Glo's door is gasket lined so it can seal up smoke very well and you don't smoke up the whole restaurant kitchen. 
Also, comparing the prices to a Masterbuilt, for example, the Dyno-Glo is cheaper and so it's a better budget-friendly buy. I know that operating costs keep rising these days and you want to keep costs low so a good mid-price smoker like this one is a great investment. 
The burners are quite powerful and you get a total of 20.000 BTUS from the two cast iron burners. 
As well, the smoker's insulation is good so heat retention is no problem and the temperature stays constant. 
With this smoker, you get really tasty smoky aromas because you use real flavored wood chips. The wood chips come in all kinds of flavors and you can use different ones depending on the meat or food you smoke. 
Some customers complain that the maximum temperature is only 350F but for smoking, you really don't need more than that. After all, the Dyna-Glo is a vertical gas smoker and not a grill.
So, this smoker is not recommended as an outdoor oven and is limited to smoking but just imagine all the tasty smoked briskets and rib racks you can prepare for hungry guests.  
I also want to talk about size. The 43″ vertical smoker model is perfect for your restaurant's cooking area because it's not too bulky and it fits nicely into tight spaces too yet still leaves plenty of rack cooking space inside. 
Conclusion
After reading about commercial smokers, are you prepared to buy an indoor smoker and create more flavorful foods that are sure to please any crowd?
Remember that when you are choosing a commercial smoker, you want to look for options that are going to make you profit. There are plenty of compact smokers you can choose from!
So, always consider durability, fuel consumption, maintenance cost, as well as capacity. Customers are looking for great taste. If you can offer tasty smoked foods, they will surely come back for more.
The smoker is the one doing all the work, so don't hesitate to check out all your options before making a smoker purchase. You want to pick a smoker that will give food that distinctive smoked aroma.
Serving smoked foods to your customers? These are the top 8 best BBQ sauces to put on the table
Joost Nusselder, the founder of Lakeside Smokers is a content marketer, dad and loves trying out new food with BBQ Smoking (& Japanese food!) at the heart of his passion, and together with his team he's been creating in-depth blog articles since 2016 to help loyal readers with recipes and cooking tips.