by Susie
|
Last Updated:
May 4, 2020
I love creating free content full of tips for my readers, you. I don't accept paid sponsorships, my opinion is my own, but if you find my recommendations helpful and you end up buying something you like through one of my links, I could earn a commission at no extra cost to you.
Learn more
Whether you are cooking for 70 people a day or 1000, the quality of the food you serve matters, it will keep your guests coming back for more!
Many businesses have realized that offering freshly smoked foods to hungry customers has improved their sales!
Have you been thinking about buying a smoker to smoke your own foods right there? Let's look at your options.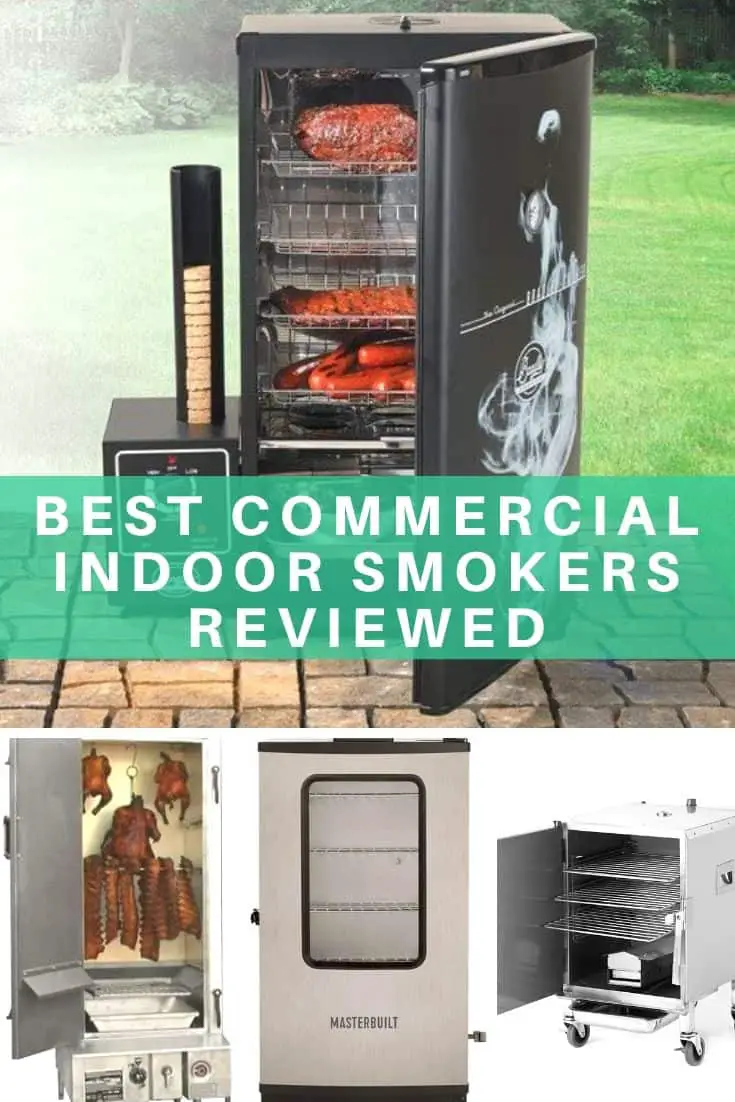 What do you know about commercial indoor smokers?
Usually, large indoor smokers are used in restaurants; they are known as commercial smokers. You can use them to smoke your meats fresh for your clients.
Imagine, serving a delicious smoked sausage to your customers, without having to sit outside by the fire smoking your sausages for hours beforehand!
What's an indoor smoker like?
Don't be under the impression that indoor smokers are huge open flame contraptions!
In fact, most indoor smokers look like metallic boxes, and they integrate well into a restaurant and commercial layouts.
Commercial smoking is a whole different thing compared to smoking at home.
Since a restaurant is such a busy environment, with many people in a closed and often cramped space, you need smokers that are not going to be a burn, fire, and smoke hazard.
But there are also small smokers like stovetop smokers or small-sized electric smokers you can use in your home.
This is especially useful if you don't have a backyard, garden, or patio area.
How do indoor smokers work?
An indoor smoker works by heating up the wet wood chips you place inside until the chips begin to smoke.
The meat or other food sits on racks inside the smoker or hangs on hooks from the top part of the smoker.
The smoke then penetrates the whole smoker, giving the food that classic smoky flavor. The smoker also heats up to the desired temperature to cook the food evenly.
Actually, most indoor smokers have a feature that controls the temperature automatically, which means you don't have to continually check if the food is smoking at the right temperature.
Do I need to make changes to my kitchen?
Installing an indoor smoker is usually quite simple, and in most cases, you don't need any permits. You should know it that ventilation is essential in any kitchen.
Indoor smoking venting can be simple. Here's what you need to consider beforehand:
Add a ductless range hood to deal with the smoke that may potentially rise out of your smoker.
This range hood will allow you to control the smoke in the kitchen easily and maintain good air quality so everyone can breathe comfortably.
Basically, what ductless range hoods do is remove any grease, smoke, steam, and nasty smells from your kitchen.
The hoods usually come with a charcoal filter that purifies the air.
Now, if you are going to use a pellet-fired smoker, you'll need to pay extra attention to venting.
When planning the flue, make sure it can draw air naturally and be sure to clean the flue every six months.
Before installing any equipment, always consult the manual and instruction guide.
What should I smoke with my indoor smoker?
Well, you can smoke almost any food. It all depends on what your restaurant offers and what you want your specialty dish to be.
It's best to use an electric smoker indoors, and the list you'll find here contains foods that taste good when smoked with an electric smoker.
Here is a list of the recommended foods to smoke:
Whole chickens
Chicken quarters
Pork shoulders
Pork butt
Beef brisket
Ribs
Prime Rib
Lamb
Sausage
Fish
Salmon
Chuck roast
Pork picnic shoulder
Deer
Turkey breast
Tomatoes
Cheese
Artichokes
Bell peppers
Corn
Do you see the variety you can smoke? It doesn't just have to be meat.
Yes, the carnivores and omnivores will love smoked foods, but you can cater to vegetarians and vegans with a smoker.
Types of smokers to avoid using indoors
Before you invest money in an indoor smoker, consider all the types of smokers you should AVOID using indoors because they are dangerous!
Charcoal Smokers
You are not allowed to burn charcoal smokers inside your restaurant because it is extremely dangerous. Charcoal smokers must be used to smoke outdoors!
When charcoal is burned, carbon monoxide is released into the atmosphere.
If you are using a charcoal smoker in a contained indoor space, you risk getting carbon monoxide, and you can end up poisoning your staff and guests, so always avoid doing this!
What commercial indoor smoker should I buy?
If you are looking for a commercial indoor smoker, your best buy will be an electric smoker. Prices range between $300-3000, depending on the size, brand, and capacity.
In this list of smokers, I will focus on the best indoor electric smokers that have good ratings by customers.
The best way to make an informed decision when shopping is to look at reviews and comments of people who've bought these products.
Indoor electric smokers
The safest indoor smokers are electric because you don't need to supervise the smoker nonstop, and there is no risk of anything nearby catching fire from open flames.
Also, you won't end up with smoke in your house or restaurant.
Did you know that you can get almost the same smoke flavors with an electric smoker that you would get on a charcoal device?
With an indoor electric smoker, you can smoke fish, poultry, game, red meats, and even vegetables or cheese!
The reason people love indoor electric smokers is that they're the lowest-maintenance smokers out there.
These smokers are useful kitchen appliances to have, and luckily, you can get commercial grade smokers on Amazon.
If you're considering getting an electric smoker, try this top-rated product:
Smokin-It Model #1 Electric Smoker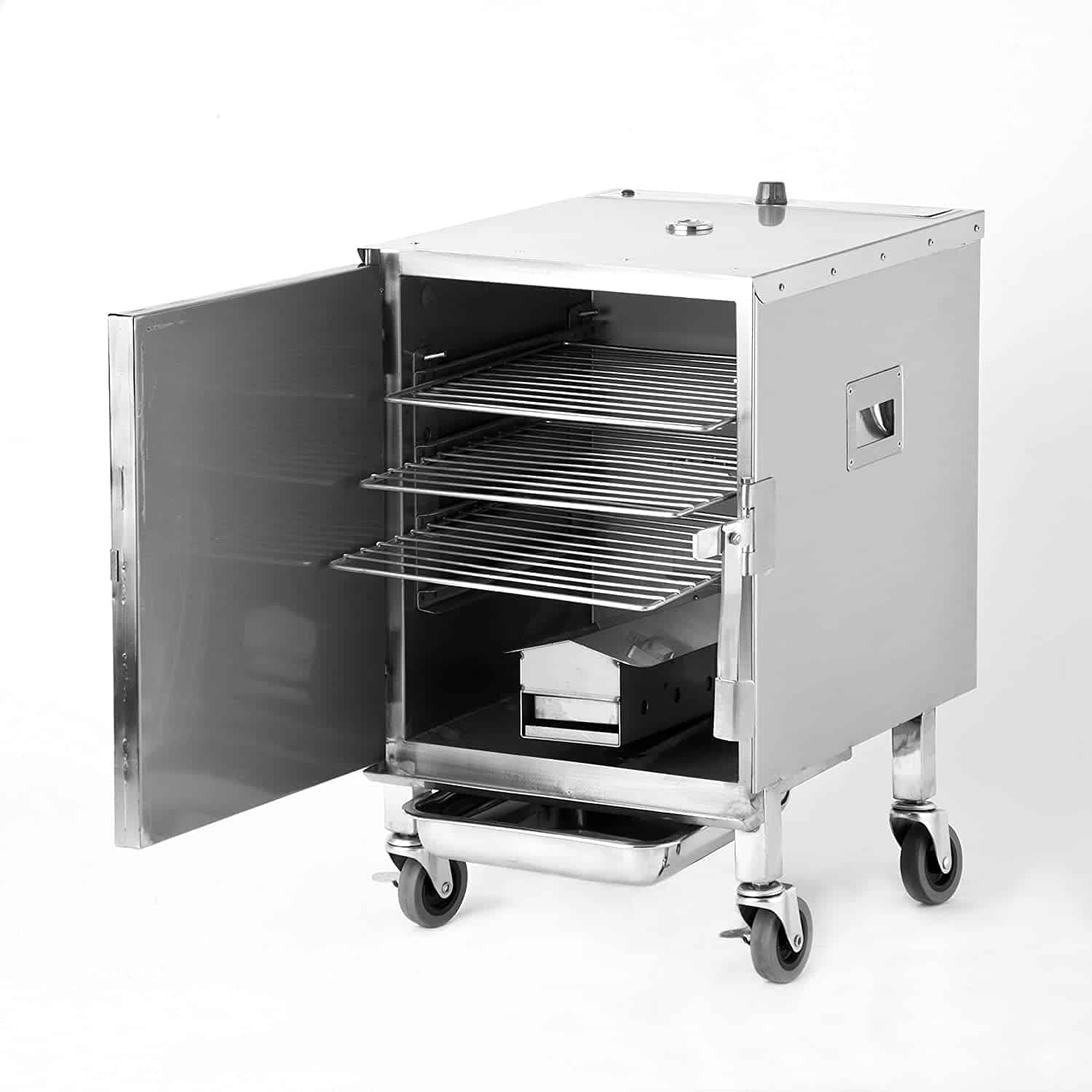 This smoker is very popular in smaller and mid-sized restaurants. The shape is boxy, it is small and compact but has an excellent price, coming in at around USD 350.
With this product, you get a lot of value for your money.
This smoker is an indoor use smoker but requires a source of outdoor ventilation at a maximum of 70 CFM.
Here's why this smoker is an excellent choice for your restaurant:
It can smoke 21 pounds of meat and seafood at once.
The smoker is made of quality stainless steel, making it durable.
The smoke has three stainless steel grilling racks.
It's a portable smoker you can move around – it weighs 58.8 pounds.
The smoker contains a 400 Watt heating element.
The product comes pre-assembled; you only need to attach the casters.
The product comes with a sample of hickory wood so you can start smoking right away.
You can smoke more than meat – try smoking almonds, nuts, and even cheese!
The smoker does not overheat or get hot on the exterior, so there is no fire hazard.
The product is NSF Certified for restaurant use.
The flavors of the smoked food are similar to the type of flavor you get with a charcoal smoker.
The smoker comes with a handy smoking guide showing you how long you need to smoke every kind of food.
Ok, now let's see why customers prefer this product:
Low wood consumption: the product uses less wood than other models but still creates enough smoke to give food an excellent flavor. Meat gets a 'pink smoke ring,' which is similar to what you get with wood-smoked foods in traditional outdoor smokers.
High-quality product: people love the quality of the smoker. It is made of stainless steel and is very durable, doesn't dent or scratch easily. It has an excellent compression door, which is a great seal, you won't get any smoke coming out.
A quick recipe to make:
Are you looking to try it out? Smoke a delicious hickory-smoked pork tenderloin.
Step 1: Wash and dry a piece of pork tenderloin that is about 2 or 3 pounds.
Step 2: Cut off the white membrane on the meat and add your favorite rub and spices.
Step 3: Add two small square pieces of hickory wood to the smoker – pieces should only be about 1″ thick.
Step 4: Cook at 225 degrees F for about an hour or until the meat is at 145 degrees F.
Masterbuilt Top Controller Electric Indoor Smoker
This product, available on Amazon, is another practical commercial smoker. It is priced around 600 dollars. It has a see-thru window so you can see your food as it smokes.
This indoor smoker comes with an added tech bonus – a Bluetooth feature that lets you control the temperature of the device from a distance.
Here's what this product offers:
It's the first remote-controlled smoker.
Bluetooth technology allows you to control heat, light, time, and on/off button from a distance.
Four chrome racks for more space.
Load the wood chips on the side of the smoker. This is a patented wood chip loading method so you can load the smoker without opening the smoker's door. It has wheels so it can be moved around easily.
The smoker weighs 65.7 pounds.
People prefer this electric smoker because of:
Technology: The Bluetooth feature allows for distance smoking. This smoker uses advanced technology compared to other smokers. It also has an integrated control, which will enable you to have accurate control of temperature.
Value: The product has a large capacity – you can smoke sixteen whole chickens at once, four turkeys, or eight pork shoulders. For 600 dollars, you can feed an entire restaurant with one smoked load.
Check the latest prices and availability here
Bradley Smoker BS611
Bradley smokers are well-known in the restaurant world. This product is considered 'stylish' and highly functional. It is powered by bisquettes – which are round pellets.
Here's what the Bradley smoker offers:
Eight hours of continuous smoke.
It has two elements: a 125-Watt smoking element and a 500-Watt cooking element.
The product is made of the highest quality and durable stainless steel. It comes fully insulated, ensuring excellent heat retention.
It comes with an attached smoke generator.
It has lots of cooking space, 572 square inches, and four racks.
This smoker is built for use in restaurants and catering businesses, so it is more powerful than household smoker versions.
Here's what clients enjoy about their Bradley smoker:
Versatility: this smoker can be used both indoors and outdoors to cook and smoke a large variety of foods. It is a lightweight, but large smoker that may be used in any type of commercial setting. This smoker can be used for cold and hot smoking, and people love the smokey taste they achieve when using this smoker.
The only con, or disadvantage of an electric smoker, is the lack of authentic smoke 'marks' on the meat. A traditional smoker leaves these lines or smoke rings on your food, and manypeople look for that to asses the 'authenticity' of their BBQ. But, don't worry too much about this because electric smokers give a great smoky flavor to your dish, regardless!
Indoor stovetop smokers
Have you heard of indoor stovetop smokers?
These are small pan-sized stovetop smokers you can safely use indoors.
Check out this model:
Camerons Stainless Steel Stovetop Smoker
This is an option to consider if you are only smoking small quantities of food.
For example, if you only offer a smoked meat option on your menu, this may be your best money-saving option. It's the cheapest option available for smoking – it costs between 20-30 dollars.
With this product, you can smoke fish, vegetables, all kinds of meat on any stovetop.
Here is some useful information about the smoker:
It works with any type of heat source: open flame, electric stovetop, and oven.
It comes with a sample of oak wood chips.
This product is dishwasher safe, so you can clean it fast and use it over and over again in your restaurant.
The product is very light, only 2.7 pounds.
I recommend that if you are looking to smoke food for commercial purposes, you buy two or more of these stovetop smokers to use simultaneously so you can smoke larger quantities of meat at once.
Check out the latest prices here
Indoor Smoker Oven
Have you heard of indoor smoker ovens? They are small cookers, that work as slow cookers and smokers.
These devices use minimal quantities of wood chips, and you can add any flavor of chips to achieve the desired taste.
Think of it as a slow-cooker Crockpot with an added smoking function.
Oster Smoker Roaster Oven
Oster is a famous brand of slow cookers and portable smokers. This product has a 4.5/5 star rating on Amazon.
Customers love it because it's an easy way to smoke and roast food indoors, and it only costs 60 dollars.
I recommend you use this product if you are smoking small batches of food.
It is a small smoker weighing 17 lbs.
It has a capacity of 16 qt.
The product has a built-in tray for wood chips.
Fast smoking feature: a whole chicken can be smoked in around two hours.
Indoor gas smokers
In general, it's recommended that you use electric smokers in commercial settings; it is the safest way to smoke indoors.
But, to use this kind of a smoker, you need to have a gas or propane line set up for your equipment. You also need a sturdy and properly set up exhaust hood.
The advantage of using a gas and propane smoker is that it is easy to control, and you won't get smoke billowing everywhere.
It's also easier to maintain a constant temperature, ensuring even smoking.
Here is a liquid gas indoor smoker ($3000).
Town SM-24-L-SS Natural Gas Indoor Stainless Steel Smokehouse
Here are the benefits of a commercial indoor gas smoker:
The smoker can be used all year round.
The smoker fits into restaurant layout, especially in urban kitchens that are tight on space.
These smokers use less gas, making them economically viable. Using this type of product will lower your utility bills.
You use less wood with these smokers than traditional outdoor smokers. You have precise control on temperature, ensuring the meat is cooked at just the right temperature, maintaining its juiciness.
Here is some information about this smoker:
The product is made with aluminum tubular burners
It has a weight of 400 pounds; it is a large commercial-sized smoker.
It has a galvanized top and rear.
It is made of durable stainless steel and fiberglass-insulated double-walls.
The smoker uses liquid propane as its fuel source, making it efficient.
High capacity – can smoke 100 lbs. of ribs at once.
The temperature can be controlled by a thermostat. It has a temperature between 150-550 degrees Fahrenheit.
The product has two cooking levels. You can suspend meats from the included skewers.
It also comes with a water pan and safety grate.
Kettle Smokers
Nordic Ware 365 Indoor/Outdoor Kettle Smoker
Another smoker option is a multi-use indoor/outdoor kettle smoker. This type of smoker resembles a 'kettle,' hence its name. It's a dome-shaped cooking device which contains:
A drip pan to collect juices.
Has a non-stick smoking rack to place your food on.
It can be used on various types of cooktops.
It contains a thermometer that shows you the smoking temperature.
The smoker is light; it weighs about 4 kg.
It has a 5-liter capacity.
You can do dry smoking and water smoking with this equipment.
These kettle smokers are very easy to use; you just place the smoker over the stovetop or your heat source, place the meat, and cover.
Let it smoke until your food is fully cooked!
Pellet Smokers
Pellet smokers are not very common in commercial kitchens. But a new pellet oven for smoking is available from a manufacturer called Cookshack.
It has some apparent conveniences: the wood pellets are easy to use, affordable, and the food will have that tasty smoke flavor.
Wood pellet smokers are compact and perfectly suited for commercial smoking; you can cook enough food for a large group of diners.
Also, pellets are easy to clean up, and they come in a large variety of flavors so that you can offer variety to your clients.
Cookshack FEC240 Fast Eddy's Commercial Fixed Shelf Pellet Smoker Oven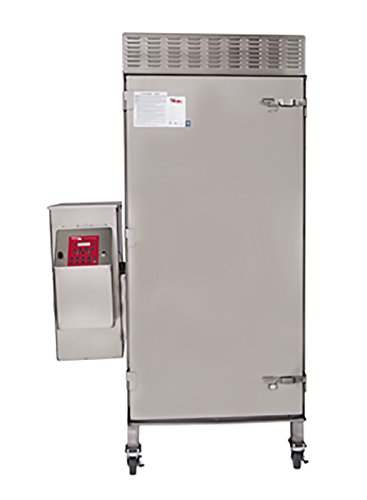 Cookshack is the most famous brand, well-known for its pellet smoker ovens. This 'commercial 100% wood-burning pellet-fired smoker oven' is perfect for restaurants.
Here are the main specifications of this product:
This pellet smoker has a smaller carbon footprint than previous versions.
It is a compact product, perfect for tight spaces and smaller kitchens.
The oven has an offset firebox and a convection fan that circulates the smoke and heat, ensuring even temperature in the smoker.
It has a digital controller that allows you to set customizable cooking pre-sets, as well as alarms.
You can download information onto a USB flash drive.
As a heat source, you are using dry wood pellets that don't cause temperature fluctuations.
You can cook up to 250 pounds of pork or 60 whole chickens at once.
Pellets are easy to use and clean up. They produce minimal quantities of ash.
Clean-up and removal of ashes is easy; there is no fire hazard because you are not working with any hot embers or coal bits that could burn.
Check this one out here on Amazon
Takeaway
After reading about commercial smokers, are you prepared to buy an indoor smoker and create more flavorful foods that are sure to please any crowd?
Remember than when you are choosing a commercial smoker, you want to look for options that are going to make you profit.
So, always consider durability, fuel consumption, maintenance cost, as well as capacity. Customers are looking for great taste.
If you can offer tasty smoked foods, they will surely come back for more.
The smoker is the one doing all the work, so don't hesitate to check out all your options before making a smoker purchase.
You want to pick a smoker that will give food that distinctive smoked aroma.